On sale – Alone with Mr. Darcy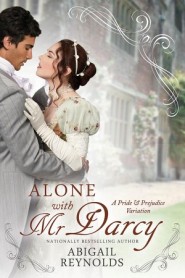 I've got a bargain for you today – my national bestseller Alone with Mr. Darcy is on sale for 99 cents! It's available at online booksellers internationally, including Kobo, Barnes & Noble, iBooks, Amazon, and more.
Here's the blurb:
Alone with Mr. Darcy….
Elizabeth Bennet can't imagine anything worse than being stranded by a blizzard in a tiny cottage with proud and unpleasant Mr. Darcy. But being trapped there for days – and nights – with an injured and confused Mr. Darcy who keeps saying the oddest things about her is even worse. At least he possesses the useful ability of lighting a fire to keep them from freezing to death. But when he puts his arms around her, she discovers the hearth isn't the only place he knows how to build a fire. And the little half-frozen kitten he finds in a woodpile isn't proving to be much of a chaperone.
She doesn't really believe his promises to marry her if anyone finds out they spent two nights alone together, especially after learning he was betrayed by another woman in the past. When her worst fears are realized and her reputation is in tatters, she isn't surprised to discover Mr. Darcy has vanished into thin air, leaving her no choice but to find a husband as soon as possible before her whole family is ruined. Any husband will have to do, no matter how much she dislikes him. Even if she can't stop thinking of Mr. Darcy….
Still not sure? Read the review at Austenprose! Here's a quote from it: "5 out of 5 Stars! – Alone with Mr. Darcy was just as entrancing as I imagined it was going to be, and the magic of the first half when Elizabeth and Darcy are alone set the stage enough to make the usual misunderstanding and miscommunication between them afterward that much more stinging. I could imagine Elizabeth's horror as she realized that not only was her reputation tarnished, but her very livelihood was under attack as well….
It's been a while since Reynolds has come out with new work, so I was building up my hopes as the time came for Alone With Mr. Darcy to finally hit the shelves. I am happy to report that Reynolds has met my high expectations and given me, even more, to be excited about. I consider her to be a cornerstone in the Jane Austen fan fiction community, and I'm so grateful that she is still writing such intriguing stories to share with us. Alone With Mr. Darcy is another great addition to this lineup, and it is full of fantastic and imaginative scenery and plot lines that are sure to make you read all of Reynolds' works if you haven't already."
Anyway, I'm still hard at work on my upcoming Pride & Prejudice fantasy variation, and the fossil-hunting Darcy novella is still on the way, but I hope this will provide some entertainment in the meantime!